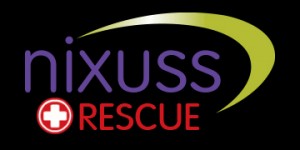 Nixuss Rescue On-demand remote support to keep you running, whatever (and whenever) the problem.
Nixuss Rescue is our on-demand remote support option for anyone who needs help with their computer. It's not always convenient to visit us, or maybe your problem is not a complete system failure. Perhaps you just need some help in how to use a piece of software or just cannot figure out some behaviour of your computer.
Nixuss Rescue allows us to access your computer remotely, as long as you are connected to the internet. We can then assist in whatever way you need to solve your problem. There and then.
No waiting, no fuss and with our NO-FIX NO-FEE guarantee.
Call 01923 350255 to request your personal rescue now.
When requested, please just give us your ID & password, and we'll spring into action.